About Us
Meet Dr. Jenkins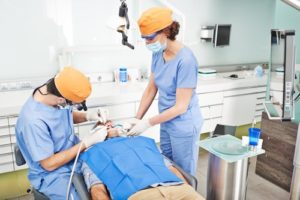 Our Mission is to create a patient centered atmosphere where there is mutual respect for everyone's time, needs, and comfort.  We use a Team approach to produce efficient, productive and cost effective results for our patients as well as our staff.  It is this type of attitude that yields common courtesy and respect for the growth and continued success of our practice.
– Dr. Jenkins, Dr. Hadaway and Team
Our Advantages
Accepting Most Major Insurance
Our helpful staff will assist with processing all insurance claims.
Using Innovative Technology
All our surgeries are furnished with state of the art equipment and maintained at the highest standards.
Certified Dentists
With over 68 years of experience, our doctors are experienced in all facets of dentistry.
Our Happy Patients
Dr. Jenkins and his team are always so wonderful and welcoming! My 7 year old thinks nothing of going to the dentist and I believe that has a lot do with the fact that his staff makes it feels like your visiting extended family! & the treasure box is always a plus!
I have been going to Dr. Jenkins for several years now. I moved out of Lakewwod 11 years ago and have never considered changing dentists. He does great work and does a good job putting me at ease during any procedures I need to have done
Dear Dr. Jenkins and Staff,
Your kindness may seem simple to you, but it meant everything to me. I just want to thank you for your excellent service over the years. I will always recommend Dr. Jenkins to my friends when they need a good dentist
Teacher
I was in the office for my semi-annual cleaning. The appointment started on time. Everyone was very professional and personable. I had to be referred to a specialist and the office made the appointment for me.
Sales Manager
Had my teeth cleaned and checked today by the professional staff at Dr. Jenkins today. always on time courteous and professional. They also have a great selection of music playing!
Handyman
I have been seeing Dr. Jenkins and Dr. Hadaway since 2006. They are caring and know what they are doing. They are conservative and care deeply about their patients. I trust them completely and am thankful for them.
Businessman